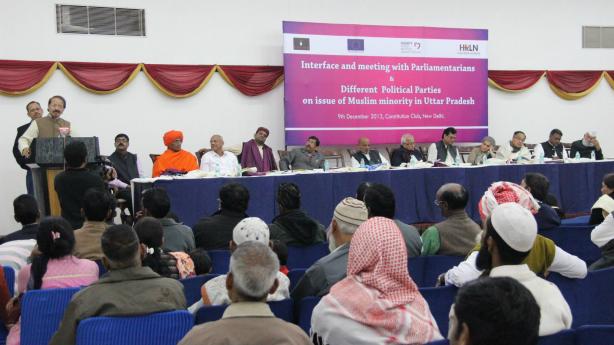 PEOPLE'S Vigilance Committee on Human Rights (PVCHR), Varanasi and Human Rights Law Network (HRLN), New Delhi, with the support from European Union and Dignity Danish Institute Against Torture organised "Interface meeting with the Parliamentarian, policy makers and political parties, on the issue of Muslim minority in Uttar Pradesh" on December 9, 2013, in Speaker Hall, Constitution Club, New Delhi.
"Attacks on Hindu and Christian communities in Pakistan and Bangladesh and targeting of Muslim and Christian communities in India are being increasingly used as a political weapon by the communal and fascist forces", said Lenin Raghuvanshi, General Secretary, PVCHR. A documentary, 'Muslim & Police: A Perspective', prepared on the basis of interactions for almost three months at the grass root level with the members of Muslim community in various Muslim dominated districts of Uttar Pradesh was screened during the event.
A book "Repression, Despair and Hope: Mapping of Police torture in four districts of Uttar Pradesh and Strengthening Human Rights Institutions" on 1500 cases of human rights violations after comprehensive fact finding exercises in the last 3 years was also launched. These cases relate to police torture and communal violence which have affected the minority Muslim community most in Uttar Pradesh.
The following resolution was made during the event-The role of judiciary in condoning police atrocities and in not allowing the state to withdraw false cases lodged by police against persons declared innocent by a judicial commission (Justice Nimesh Commission).
Ratification of UNCAT and enactment of Prevention of Torture Bill.
Enactment of Communal Violence Bill immediately.
Immediate established of rule of law and appropriate pro-survivors rehabilitation and relief to survivors of survivors pf communal riots in Muzzafarnagar, U.P.