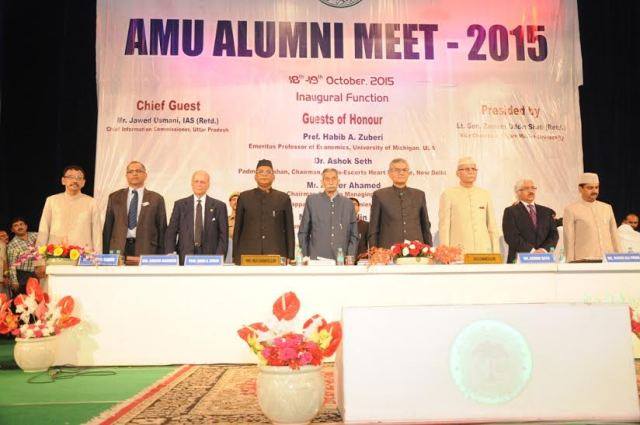 Its quite difficult to sum up the recently concluded AMU Alumni meet in words. I have never witnessed such enthusiasm, dedication, hard work and professionalism in any meet. More than 600 delegates (AMU Alumni) across the globe gathered to pay tribute to the founder of AMU, the great Sir Syed Ahmed Khan, and also pledged to take his mission forward by investing time, talent and treasure. The three day event started with SS day celebrations on 17th October 2015. The chief guest of the event was PK Abdu Rabb, Minister for Education and Culture, Government of Kerala, who himself is a proud alumnus of AMU. In the evening each and every hall of AMU hosted its annual SS day dinner and eminent alumni of AMU presided those functions as chief guests.
On 18th October 2015 AMU Alumni meet commenced at Kennedy auditorium. The dais was full of eminent alumni consisting of Chief guest Javed Usmani (CIC, UP Govt.), Prof. Habib Zuberi (Professor Emeritus of Economics, University of Michigan, USA), Dr. Ashok Seth (Padam Bhushan, Chairman , Fortis-Escorts Heart Institute, New Delhi), Ameer Ahmad (Chairman & Group MD of Manappat Group of companies, Dubai, UAE), Nasiruddin Shah (Padam Bhushan awardee and renowned actor, Mumbai) , Vice Chancellor Lt. General Zamir Uddin Shah, Pro Vice Chancellor Brigadier Ahmad Ali and Dr. Suhail Sabir (Chairman of Alumni Affairs Committee, AMU ). These alumni made not only the alma mater but also the country proud through their work and talent.
After inspirational speeches from distinguished guests, an alumni Dr. Afshan Hashmi donated her wedding jewellery for the cause of alma mater. It was auctioned on the stage and the total money collected through this auction was in excess of Rs 7 million. Highest bidder was a proud alumni from Mumbai, Rais Ahmad, who gave the jewellery back to AMU to be preserved in the AMU museum.
After the inaugural session, various other sessions took place which emphasised on AMU & alumni interface, alumni role in infrastructure development & alumni & student Interaction. The sessions were addressed by alumni from USA, Middle East, Canada and India. The speakers gave detailed presentations inline with the theme of sessions and promised to take AMU to new heights through their continuous support and experience. The speakers included Dr. Shaheer Khan, Syed Ali Rizvi, Masood Akhtar, Nausha Asrar, Rais Ahmad, Nadim Tarin, Mohammad Ahmad Badshah, Sayed Mohammad Naved, Syed Hasan Kamaal, Mohammad Zaigham Khan, Faisal Saleem, Ameer Ahmad, Umar Farooq, Md Mudassir Alam, Mubarak Raza Naqvi and Zartab Haider Jafri. There were three presentations by students as well which showcased various innovations and projects undertaken by them.
The day ended with a play 'Karbal Katha' followed by dinner.
On the second day of the meet, alumni visited and witnessed the infrastructure projects like extension of B.R. Ambedkar Hall and a new manufacturing unit for Unani medicines. In the afternoon the foundation stone of new residence hall 'Riyadh Hall' was laid by the Vice Chancellor, Zamirduddin Shah and Nadim Tarin. This hall is being built by the efforts of alumni from Saudi Arabia.
Alumni also visited the new art gallery , a smart classroom , Bridge course (an ambitious initiative by the VC to bring Madrassa education and modern education closer) and convention centre in the engineering department.
The day ended with valedictory session in which the chief guest was another proud alumnus and recipient of coveted Shanti Swaroop Bhatnagar award, Dr. Rajeev Kumar Varshney. The session was presided by one of the illustrious alumnus and recipient of Nishan-E-Imtiyaz, Brigadier Mohd Shafi, who despite his fragile health and 88 years, came all the way from Pakistan to be a part of this event. He also donated Rs 750,000 to the university.
The untiring and selfless efforts of the Alumni Affairs committee made this event possible and left no stone unturned in making it one of the most successful event ever organised on the campus. Chairman of Alumni Affairs committee, Dr. Suhail Sabir, deserves special mention. He was duly supported by Dr. Ali Jafar Abedi, Prof. Syed Ziaur Rahman, Prof. Asad U. Khan, Prof Akram Javed and Dr. Mohammad Zain Khan. The volunteers, too, left no stone unturned to make alumni comfortable at all times.
Few questions like the building of AMU centres at Maharashtra and Madhya Pradesh though remain unanswered, but I am pretty sure that under the aegis of VC Zamir Uddin Shah that will also see the light of the day .
I end with these lines of Majaz-
"Zarraat Ka Bosa lene ko Sau baar Jhuka Aakash Yahan,
Khud Aankh se hamne dekhi hai Baatil ki Shikaste Faash Yahan
Yeh Mera Chaman hai mera Chaman,
Main Apne Chaman ka Bulbul hoon"
—Zartab Haider Jafri works as a business head for Mimer Energy Limited, India.