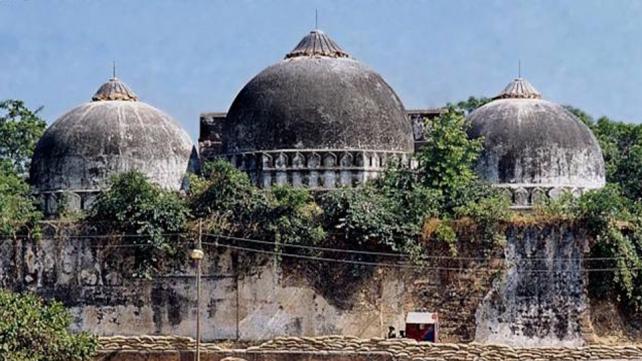 The Supreme Court's advice to settle Babri Masjid-Ram Janmbhoomi case outside the court is a golden opportunity for Muslims to demand their rights.
The SC's advice is a clear indication that the highest court of the land is unlikely to decide on this case. That is why, it has suggested consultations between Hindus and Muslims and offered to arbitrate a settlement.
Two, the timing of the SC advice is also a clear indication that Modi Govt is not keen to build a Ram Temple by amending the Constitution despite the legislative muscle it has acquired after winning Uttar Pradesh.
Modi Government's first choice would be to somehow bring Muslim community — by coercion or persuasion — to the table and negotiate a settlement.
Why the government would wants to consult Muslims? 
Because a negotiated settlement will earn international legitimacy to the contentious temple. Also, this will be a big boost to Modi's stature on the international stage — that he managed to settle a century-old dispute that has claimed thousands of lives. Moreover, a negotiated, peaceful settlement will make Modi a serious contender for Nobel Peace Prize, a global honour the PM would love to get.
On the domestic front, a Ram Temple without any further bloodshed will earn Modi immense goodwill among the Hindu liberal class who have always hated him.
If the Muslims refuse to come to the table, the government's second option would be coercion. It must be noted here that the Supreme Court's advice came just two days after Yogi Adityanath took over as the Chief Minister. It was not a coincidence that Yogi Government's first action was a crackdown on mutton trade, a business dominated by Muslims and a product consumed by Muslims. The idea is to put pressure on the community by twisting its arms and attacking its economic interests. Legality of slaughter houses is only an excuse. Yogi's actions are part of a bigger plan. The real objective is keep Muslims under intense pressure ahead of negotiations on Ram Temple. Not surprisingly, other BJP ruled states have launched a similar crackdown.
That is why it is important for Muslims to assert their rights as citizens of India and refuse to accept any settlement that is imposed on them. The community must stand firm in the face of any crackdown on their economic interests and wait for a formal offer from the Government to enter negotiations on the Ram Temple issue. Once an offer is made, the Muslims must prepare a charter of demands.
Here are some suggestions:
Demand the Government to enact a law similar to Scheduled Caste and Scheduled Tribe (Prevention of Atrocities) Act, 1989 to protect lives and properties of Muslims.
Demand the Government to enact an Anti-Communal Riots Law for trial of riot cases in special courts so that organisations and individuals behind violence against Muslims can be brought to justice.
Give powers to Minority Commissions to prosecute police and government officials involved in fake encounters.
Set up an autonomous Special Muslim Education Finance Corporation to provide grants and scholarships to Muslim students for school, college and university studies at home and abroad.
Allow students union elections in Muslim colleges and universities.
Declare some parliamentary and assembly constituencies as reserved seats for Muslims. The number of seats must match the percentage of Muslims in each state.
Enact a stringent Anti-Discriminal Law to prevent discrimination of Muslims in jobs, businesses and housing.
Formally declare India as a Secular Republic and introduce tolerance as a mandatory subject in all schools.
Muslims must understand one thing very clearly. Modi is the most powerful Prime Minister since independence and commands massive public support in every state. Second, Modi is a very ambitious man and wants his name in history. Third, he wants to be a global statesman who is respected by international movers and shakers.
There is no other leader who is capable of fulfilling all the above demands. Only he can do it if Muslim community assures him full support for a Ram Temple.
The Muslim clergy is a sleeping dinosaur, slow to act and are a greedy lot. The average Muslim must rise and put pressure on Muslim organisations to prepare a charter of demands.
My fellow Muslims, this is a golden opportunity. Don't lose it. Grab it. Stay firm, negotiate hard.
—Bobby Naqvi is a Political Editor at Gulf News and is based in the UAE.