INDIAN Army organised a function today to celebrate the birth centenary of Late Brigadier Mohammed Usman. A war hero, Brig. Us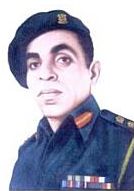 man was the senior most Indian officer killed during the Jammu & Kashmir operations of 1947-48. He was 36 when he sacrificed his life for his country on July 3, 1948. Brig. Usman was awarded the Mahavir Chakra posthumously.
Invited as a special guest on the occasion, the Vice President of India Mr Hamid Ansari said that Brig. Usman, the hero of the Battle of Naushera is one of the most inspiring military leaders of Independent India, who demonstrated exceptional courage, devotion to duty and and love for the motherland in the finest traditions of our Army.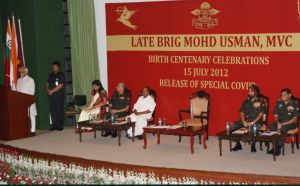 Mr Ansari further added that Brig Usman won the hearts and minds of one and all during the partition, when he was vested with the responsibility of 50,000 Hindus and Sikh refugees as the Garrison Commander of Multan. He always remained calm, religiously followed Gandhian principles and delighted in spinning the Charkha. He wore khadi when not in uniform and enjoyed reading Gandhiji's works.
When Jhangar fell on 27 December 1947, he took a vow not to sleep on a cot till he had recaptured Jhangar. True to his word, he slept on a mat during the biting cold of the winter months in 1947-48. He redeemed his pledge when on 18 March 1948, 50 Parachute Brigade recaptured Jhangar after a fierce fight. Prior to that he was instrumental in defending Naushera.
Brig Mohd Usman's heroics continues to inspire the armed forces of the country.