Every government in India has either created new welfare schemes or continued with existing ones. That these schemes have failed to reach the masses can be gauged from the following four stories.
Salauddin Qureshi's family seems to be living a normal life. The truth is otherwise.
Living in the Urdu Bazar area of Darbhanga, Bihar, Qureshi, like many others, sleep every night on hope. His modest one room abode is home to eight members of the family. Salauddin finds it difficult to manage meals but makes sure that his children attend a barely functional government school.
Government schemes have not reached this family and neither is the government listening to Salauddin's woes. The village head has nothing for him and the society shows no respect. "In such circumstances, I struggle to find a job," says Salauddin. "If I miss one day of work, my kitchen stops. It's not easy to earn two meals a day and at the same time send your kids to school!"
"Girls are not a burden but poverty has forced us to think differently! I wish God ends  this life and spare us from further misery. I'm not a pessimist but somebody has to come forward and see our plight. So far I've only heard of schemes – we've never benefited from them. I send my kids to school so that they learn a few wordly tricks and get out of this mess."
Salauddin's wife Shajra Khatoon shares her own struggles. "The day seems to last a eternity. Till the time he is not back from work, I keep thinking whether the kids will have anything to eat for the day. As adults we can control our urge but how does one handle hungry little souls in your arms. Sometimes it's mere request and assurances that the kids have in place of a meal."
"The work dried up since last four months"

The 2008 floods in Bihar brought the difficulties and struggles of its coastal areas in the open. And it was not the first time that the area has suffered. Wherever you go in this belt, you'll find hunger and poverty in abundance.
An incident on June 3, 2011, brought the region in news again. A small disagreement took several lives in the village Bhajanpura of district Araria.
It all started as a peaceful demonstration against a factory wall as the villagers were not happy with it. The factory owners on their part called the police. A tussle broke between the police and the
demonstrators resulting in police firing. Four villagers lost their lives and 15 got injured in the process. The incident was highly politicised. In spite of all this, Bhajanpura is still waiting on hope.
The village has 80 per cent of its inhabitants living under thatched roofs. One of them is 38 years old Bhatti Begum who live on alms, even her abode belongs to somebody else. Bhatti got married 12 years back. Unfortunately her husband died two years later. She is childless and lives with her brother's daughter Madeena. Bhatti is devoid of the basic facilities as promised by the many government schemes. She has neither a ration card nor gets a widow pention. All she has is an election card for her identification. Sadly, she has become a mere voter!
The entire Jan Vitran system is today infected with corruption.
"I used to get some referral work earlier – working in the fields or carrying bricks in the market. But the work dried up since the last four months. It's hard to survive. I'm totally broke!"
She represents the real face of Bhajanpura today.
"By the time we return one loan another comes up"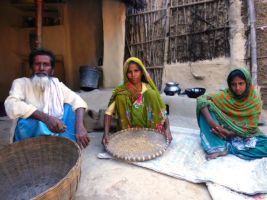 District Madhubani in Bihar is quite well known in the field of arts and culture. But there's another side to the area, and that is of people struggling to get two meals a day.
Seventy-five years old Mansoor Nadaf, a resident of village Bhalni under the Karmauli Panchayat of the district, lives with his wife Aneesa Khatoon (64) and daughter Ramza Khatoon (14). Mansoor worked as a labourer for many years. As age caught up with him, wife Aneesa started sharing some work. Today she's trying full-time to make ends meet for the family. "I get no work in the fields. Whatever little work I get, is not enough. I'm old now but what else to do. My husband is sick and my daughter is young," says Aneesa. Their financial woes seems never ending, As if this is not enough she has loans to catch up on, "By the time we return one loan another comes up."
Aneesa's daughter attends a government run madrasa. "This is all we can afford," she informs.
They don't have access to any old age pension scheme. The BPL (below poverty line) list, too, is of no use to them. Nobody has ever visited the family as part of these schemes. They've lost all hopes now.
"Government has not given us a single penny in the name of agriculture"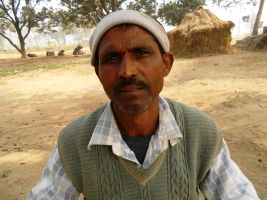 Gopalpur, under the Bhojapuri block, is a village in district Bareilly, UP. It has 221 families and none has a land. They are all dependent on labour. Almost 50 per cent of the population has no ration card. To top it the government constructed irrigation pumps broke down more than an year ago. The farmers of this village have little or no information on the welfare schemes. Ironically the state government declared 2015-16 as year of the farmer.
Fifty-one years old Mehmood had an ancentral land of 18 bighas (approximately 314,000 sqft) that he initially shared with his four brothers. The land was later divided between the brothers. "It wasn't easy to send four kids to school in the first place, rising prices have only made matters worse. Government has not given us a single penny in the name of agriculture," says Mehmood.
All these sad stories seriously dent successive governments' tall claims about the many welfare schemes in place. The million rupee question is where's the money allocated actually going!
—With inputs from Noor Islam, Anjar Bhajanpuri, Najmul Hafeez and Mohammad Aijaz. All connected to Misaal – a national network of activists, volunteers, community based organisations, social enterprises, research centres, advocacy groups, and concerned citizens' groups, local and national, working with and for poorer Muslim communities and other marginalised groups – other minorities, dalits and adivasis. Misaal can be reached at misaalfellowship@gmail.com.