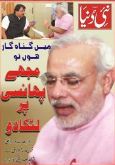 FOR somebody beginning his political career in 1997 and in a space of 15 years changed four parties, (joining one twice, before being expelled again earlier this month) is surely a seasoned politician. To top it all Shahid Siddiqui is also the chief editor of an Urdu weekly. A potent combination indeed!
So Siddiqui's sudden journalistic urge to hear Narendra Modi's point of view (a decade after the Gujarat riots) should not come as a surprise. He dedicated full six pages to the man who more than welcomed the interview. Inspite of this Siddiqui claimed that Modi didn't answer many questions. The interview looked more like a story to halt the plunging fortunes of Siddiqui, and for Modi another opportunity to project himself as the right man for the top job of the country.
As expected there was no sorry from the man. He countered by questioning those who are after him, and that it's rather him who has been wronged all these years.
Narendra Modi got the opportunity and the platform to reach out to the Muslims masses, knowing fully well that it's Gujarat which separates him and the PM's chair. In reply to a question on his message to the Muslims he said, "I want to tell my Muslim brothers not to become a vote bank in Indian politics. They should rather be seen as human and Indians first. Their pain has to be understood. If I can be of any help to them, I'm there. But they also need to see with an open mind and think."
Sure they do Mr Modi, specially when the sinner himself is talking about morality!