PROFESSOR Waseem Akhtar is the Vice Chancellor of Integral University in Lucknow, UP. In an exclusive interview with Muslims Today, Prof. Akhtar speaks at length on how education can transform minorities.

MT: Please tell us about your journey so far.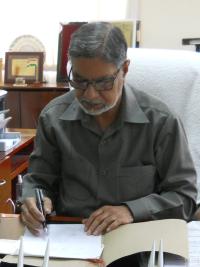 WA: I remember as a child often diving into my world of dreams. Sometime I swam, sometime I drowned and at times even flew. In real life too wherever I worked, be it in India or the Middle East, I always strived for innovation. By the grace of God my efforts were appreciated.
Years back while working as a Principal in a school I wanted to bring about some major changes, but couldn't, because of certain limitations. The thought stayed with me and I bought a 25000 sq mt of land to build a school of my own vision. We started in a hut with four students and two teachers, including me. Dreams started shaping up fast, first came the high school, and then followed a polytechnic, an engineering college, a pharmacy college, a management college and other professional offerings.
We were initially affiliated with Dr. Ram Manohar Lohia Avadh University and later on UPTU (Uttar Pradesh Technical University) but realised that we could do a lot better and faster if we become a University. Our efforts paid off when the then CM of UP, Mulayam Singh Yadav, visited our campus and formally announced about making as a University. Veteran politician Azam Khan also played a crucial role in helping us reach this milestone. Post the announcement I had a difficult time in getting the paper work done. Finally, the CM intervened and the Act of the university was done in eight days flat. Today we are working as a full fledged minority university!
MT: What is the strength of Muslim students in your institution?
WA: It's more than fifty per cent.
MT: What is the basic issue that you face with Muslim students?
WA: It's mostly related to their economic condition and as a result affects the fee payment. Either they want it to pay in installments or don't have any money at all.
MT: Is there anybody whom you look up to in this field?
WA: The inspiration behind Integral University was Sir Syed Ahmad Khan. His Mohammedan Anglo-Oriental College awakened Muslims. What he did at that time was something historic. If today we see Muslim students in any corner of the world, it's all thanks to his initiative.
MT: Do you feel things have changed for Indian Muslims during the last two decades?
WA: I can't say about the last 20 years, but during the last 10 years I've seen an urgency in the minorities, particularly the Indian Muslims, to do something for themselves and the future of this country. Today they want to go beyond the traditional madrasa education to take part in national development. So, things have changed comparatively but there's still lot to be done.
MT: Modernisation of madrasa is one topic which has been getting lot of press lately. Your thoughts on the subject?
WA: I think this is very important, but it should be done without interfering with the traditional model. Modern education should be introduced on top of what all is already taught, otherwise madrasa students would be ignorant about the world in general and would not be able to play an active role in the society.
The madrasa administration on their part should not see this as some kind of encroachment in their territories. It is something permitted by both Quran and Hadith. The Holy Prophet (PBUH) himself said that one has to seek knowledge, even if it means going to China, which was the centre of learning of the time. So the madrasas have to take right decisions to keep up with the current times.
MT: So, is it ok for the madrasas to take aid from the government for this initiative?
WA: Why not! Any tax paying entity in India has the right to do so. They should get facilities like any other institutions, based on equality and justice. There should not be any question of withdrawing from a right which the country has provided us.
MT: What are the basic problems faced by Indian Muslims according to you, and how can they be resolved?
WA: First and foremost is a total lack of leadership. Ironically, everybody seems to be a leader when actually there is none. Unless we choose a guide we cannot to do anything. Muslims should remember that the Imam of a mosque is their leader and they have to follow him. Why can't the same be done in other areas of life. It's almost impossible to find a perfect leader today, but at least we can have a second best and start somewhere.
MT: Do you see somebody who can take the lead?
WA: I can think of many individuals but I won't take their names. Muslim community would really benefit if they are at the helm of affairs.
MT: Are you hopeful for the progress of the community?
WA: I've trust in God. The governments of the day are also taking steps for the upliftment of minorities, be it new schemes or scholarships. We've recently received Rupees 30 million as scholarship money for students. This is not possible without the help of the central and state governments. Now the onus is on us to make the best use of it.
MT: Is there any message that you would like to give Indian Muslims?
WA: Success is guaranteed in any field if one does his work with sincerity and honesty.