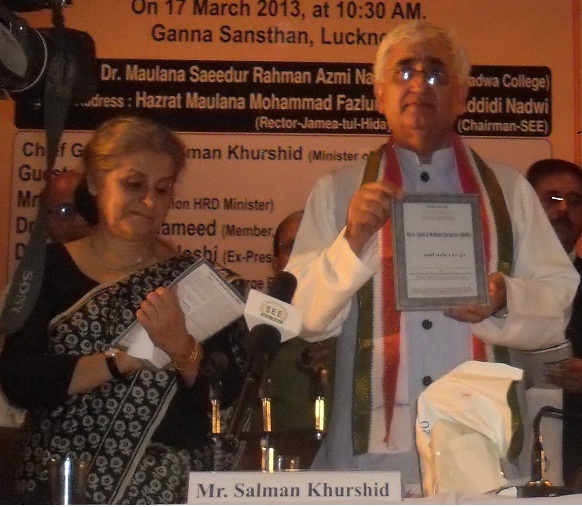 Lucknow. A national conference, "Unpacking the 12th Plan", was held on the 17th of March. The conference was an effort to understand as to why goverment initiated welfare schemes do not reach out to the masses, and to find a way out so that the objectives of the schemes are truly realised. It was presided over by Dr Maulana Saeed-ur-Rehman Azmi Nadvi. Also present on the occassion were  Salman Khurshid, External Affairs Minister, Pallam Raju, Minister for HRD,  and Mrs Sayeda Hameed, Member of Planning Commission.
Some 1500 Muslim delegates from around the country participate in the conference.
Maulana Fazlur Rahim Mujadaddi Jaipuri Nadvi, Chairman, SEE (Strive for Eminence and Empowerment), presented some startling facts on the minorities in India.
Today, inspite of the Sachar Committee report, the condition of Muslims has worsened. It was supposed to highlight the geniuine issues of Muslims, but was scrutinised and criticised more. In 1947 when the national literacy was 30 per cent, some 8.5 per cent of Muslim women were in colleges, and now when the national litercy has progressed to 70 per cent, only 2.4 per cent of Muslim women are in colleges. They are now on the bottommost rung of the literacy ladder.
The 12th plan with the slogan, "more inclusive growth", has to bring individuals left out in the 11th plan, to reap the benefits of progress.
More than half of India's Muslims population (53 per cent) lives in four states viz., UP, Bihar, West Bengal and Assam. They constitue some 20 per cent of the total population of each of these states. Yet, when it comes to the police force, Muslims representation is a mere six per cent.
There's one area though where the percentage of Muslims is sadly more. It's the prison! As per an Indian Express report, Muslims constitues 40 per cent of total inmates in Maharashtra, whereas at the state level this percentage is a mere 10.6 per cent.
Maulana further highlighted the need for the community to get proactive and utilise benefits of the 12th Plan. Secular NGOs talking about progress need to be established in various areas. Muslims have to utilise their energy and talent for the socio-economic development of the community as a whole.
Others who addressed the gathering include, Dr Rita Bahuguna, Rajesh Tripathi, Zafar Ali Naqvi, Dr Muslim Arshad Azmi, Akhtar Hussain Akhtar, Masood Ahmad and Maulana Faizan Nadvi.