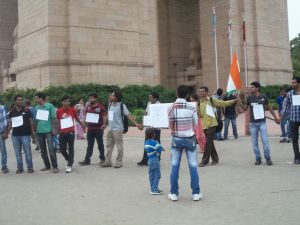 ON the call of Mission Bhartiyam, a social outfit, people formed a human chain today at India Gate in solidarity with people of North-East and victims of riots and violence.
Program coordinator Shekhar Jain said, "We are really hurt by the recent ongoing violence and we have come forward to show that we are against all such violence and riots." He added, "This human chain is a way to show that our unity and solidarity will rise come what may." \
Pankaj Pathak from Mission Bhartiyam said, "Although some organisations and individuals went to Assam to help with relief efforts, we thought it will be good if we can all gather to show our unity."
Ansaar Ahmed from NCHRO (National Confederation of Human Rights Organisations), who joined the human chain, thought it as a time of national emergency. "Our society is in danger and people must know that they are humans first, not Bodos, Hindus or Muslims."
Large number of students joined the initiative to convey their feeling of brotherhood.  Common people present, also joined hands to show their solidarity for the cause.
Members carried many posters, pinned up on their chest, condemning the violence. One such poster read, "Na Bodo na Muslamaan, sabse pehle hai insaan." (Neither Bodo nor Muslim, first comes the human being)
Mission Bhartiyam condemned the violence in Assam and also the difficulties North-Eastern people faced in other states because of some rumours.