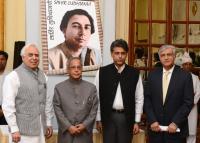 "PATLAA hai haal apnaa, lekin lahuu hai gaaRaa
Phaulaad se banaa hai, har naujavaaN hamaaraa
Mil-jul ke is vatan ko, aisaa sajaayeiNge ham
Hairat se muNh takegaa, saaraa jahaaN hamaaraa"
THE President of India, Pranab Mukherjee, released a commemorative postage stamp on late Sahir Ludhianvi on March 8th. The occasion was his birth anniversary.
Born as Abdul Hayee, Ludhianvi was a popular Urdu poet and lyricist of the Hindi film industry. He passed away on October 25, 1980, at the age of 60.
Speaking on the occasion, the President said that Ludhianvi was widely acclaimed as a people's poet who wrote on the trials and tribulations of the everyday life of the common man with great intensity and deep empathy. He was recognised as the poet of the young because of his writings on love and beauty. He wrote with great sensitivity on the values and social concerns of the contemporary period.
The President added, "One of Sahir's greatest contributions was to converge Urdu poetry into film songs." He also fought for recognition for lyric writers through the Film Writers Association.
In recognition of his services, The legendary poet was awarded the Padma Shri in 1971.